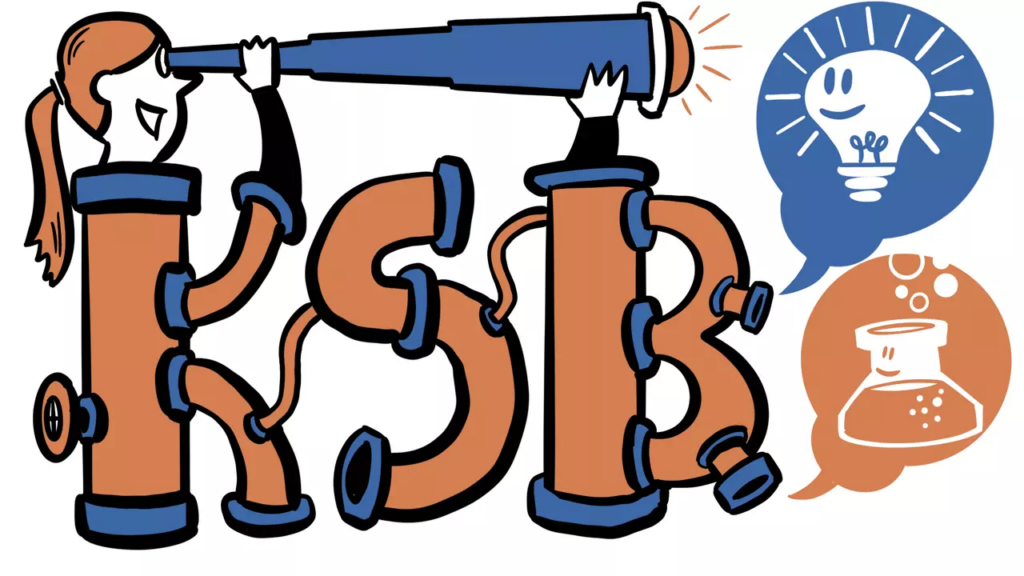 Unleashing Your Superpowers Through Visuals: KSB Foresight and Innovation, © 2023 Julian Raul Kücklich
Unleashing Your Superpowers Through Visuals: KSB Foresight & Innovation
Surpassing All Odds: From Underdog to Industry Leader
In the mid-1990s, KSB, a traditional pump manufacturer, found itself in a competitive market where innovation was critical for staying ahead. The company had been around for more than 120 years and had built a solid reputation in its industry. However, the industry was changing, and KSB knew it needed to adapt to remain relevant.
The founding family was determined secure their position and market share, and they realized it was imperative to shift their focus from a solely technological perspective to an approach that also took into account contextual factors, such as the culture of local markets, the social impact of their products, and mega-trends such as sustainability, globalization, and HealthTech.
In the 2000s, this strategy started to pay off, and KSB doubled their revenue from EUR 700 million to EUR 1.4 billion. KSB's foresight activities helped to adapt a more holistic view on the market landscape and take into account contextual factors (e.g. environmental, social), which enabled the company to identify their customer's needs more easily, all these factors taken together created the synergy needed for sustainable growth.
This allowed KSB to invest in internal #startups, for example in the growing hygiene market. They also developed a resale program for returns, thus paving the way towards a circular economy model.
Unlocking Success: Unleashing the Power of Innovative Business Models
However, they also realized that they were often so far ahead of the curve that their innovative products failed to secure significant market share. This insight led to the foundation of the Business Innovation Lab at KSB, which developed new products alongside new business models. They also launched a digital innovation platform, which helped them build up an innovation ecosystem.
One example of this is heating and building technology. For years, this was a neglected sector of the industry, dominated by traditional companies and products that hadn't changed in decades. The innovation team at KSB realized early on that #data would be a game-changer in this industry, and partnered with manufacturers like Viessmann who also saw that the energy transition would require new technologies that delivered the required data easily and reliably. While this remains a challenge in the industrial sector, because clients are concerned about data security, smart residential buildings continue to be a growth sector.
Maximilian Panthen, Franz Bosbach and their innovation team at KSB knew that they had to showcase their ideas and vision to their internal and external clients to demonstrate the value of innovation. However, they faced a significant challenge in doing so. The team needed a way to communicate their ideas in a manner that was true to their company's roots but also highlighted the potential of thinking beyond their traditional product offering.
Think Globally, Act Locally: Innovation and Disruption
To achieve this, KSB organized an annual innovation conference where all of KSB's product development leads would meet and discuss their ideas. To highlight the fact that it was international in scope, it was named Global Innovation Days, and it was designed to be a participatory event that would focus on developing customer-centric solutions based on local requirements identified by local experts who are closer to the market.
The Global Innovation Days strengthened KSB's international innovation network, fostered an open and participatory company culture, and enabled people to exchange ideas and concepts globally. The conference delivered inspiration, new perspectives and input from internal and external stakeholders, and became an important building block for successful innovation.
One example of this is the growing market for water processing, especially in China and India. Due to climatechange, water is becoming an increasingly valuable resource, and KSB needed to put this pressing issue at the center of the development of customized solutions for local markets. Delivering on this promise requires intensive collaboration, exchange and understanding of local customers' needs. Through its international innovation network, KSB was able to identify this opportunity and act on it quickly and decisively.
KSB also shifted their perspective from products to market segments. A good example for this are nuclear power plants, which require high-tech pumps with the highest safety standards for energy production, but they also have admin buildings, which KSB also equips with pumps.
However, one of the most significant innovations KSB developed wasn't in the pump market at all – it was a high-efficiency magnet-free electric motor, based on an old patent from the 1920s, which allowed KSB to produce pumps with an unprecedented energy efficiency, but also to enter new markets and compete with established manufacturers of electric motors, acting as a disruptor in a market which was dominated by industry giants such ABB and Siemens.
This is an excellent example of KSB's entrepreneurial spirit, innovativeness, foresight capabilities, and ability to take contextual factor into account. By looking into the past, they identified a path into the future, and established themselves not just as pioneers in their own industry sector, but also as a front-runner in a completely different market segment.
The Power of Visual Foresight
Early on, the Foresight team at KSB recognized the power of visual thinking. Visualization proved to be an invaluable tool for mapping customer journeys, value chains, and other critical processes. More importantly, visual thinking and foresight create the foundation for an open, participatory, and innovative company culture. Condensing and summarizing information is an important tool, which enables those working in Foresight and Strategy to see the big picture.
Franz Bosbach says, "We plant a lot of seeds and see which one grows into something worth pursuing." But he also stresses the importance of visualization to foster deeper understanding for what it takes to be truly innovative.
"Communication is key," he says. "We need to take everyone along on our innovation journey, and we need to make sure they know what's at stake." That's also the reason why he displays Julian Raul Kücklich's graphic recording printouts from the KSB Global Innovation Days, as well as the ongoing series of Future Talks with the likes of Dr. Christian Stumpf, Carolina Porto Frodl and Philipp Kitterer on the wall behind his desk. "That way, everyone I talk to on MS Teams can see what we are doing here," he says.
Julian has worked closely with the innovation team at KSB to understand their ideas and vision for the future. Apart from the Global Innovation Days and the Future Talks, he also visualized a series of strategy workshops focusing on general industry, mining and the (petro)chemical industry, respectively. He created a series of visuals that showcased these strategic approaches in a way that was both compelling and easy to understand.
Maximilian Panthen says, "Images leave a visual imprint in people's minds, and can deliver key messages quickly and efficiently. Innovation and foresight always challenge the status quo and thus require people and processes to change, often in disruptive ways. Visual communication an important tool to drive this change forward."
"As an innovation team, we need to go off the beaten track, explore new territory and lead by example. Employing visualization methods such as graphic recording communicates that we are forward-looking, playful, and innovative. Using multi-channel communication to deliver our innovation message to our colleagues increases our reach and our impact."