I am
Julian Kücklich,
your expert for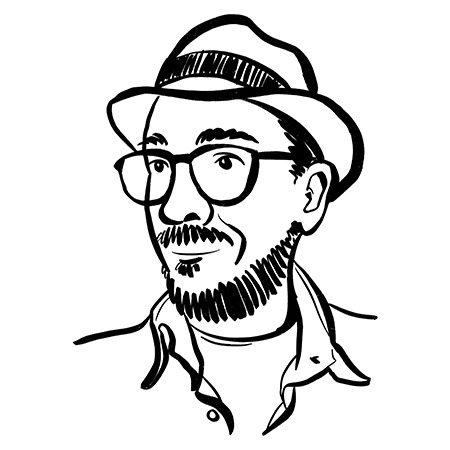 For more than 10 years, I have been facilitating conferences, workshops, and corporate events as a graphic recorder. I also support the visualization of strategic processes through live and digital graphic recording for a variety of organizations. Some of my clients include:
If you would also like to benefit from the power of visualization, please get in touch.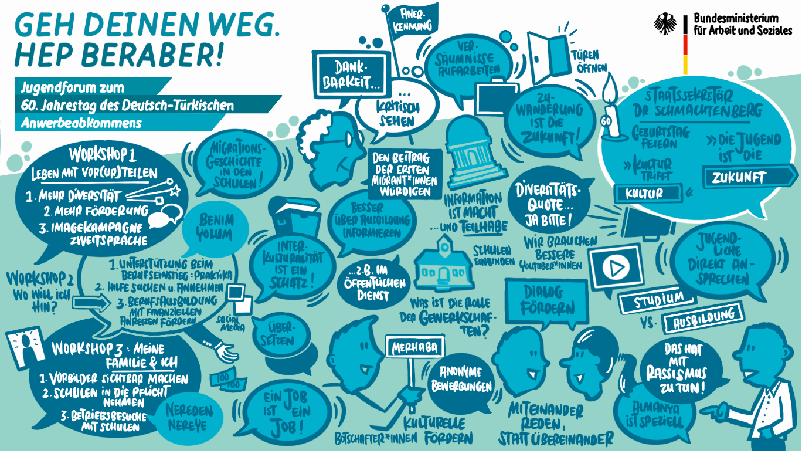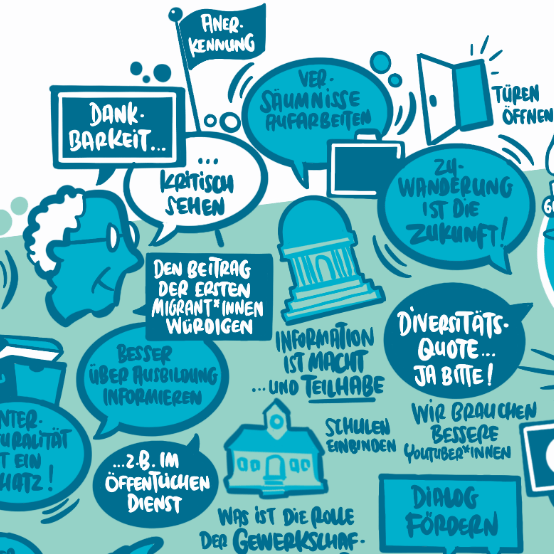 Graphic Recording lets you
see the big picture
Would you like to make sure the highlights of your company event leave a vivid impression in your participants' minds? Would you like your strategy workshop's results to be visible at all times? Would you like to increase audience engagement and commitment, and help your listeners grasp complex issues quickly? I have the solution: Graphic recording creates memorable, structured images that your participants will remember for a long time. It also highlights interconnections and fosters dialogue among people. Put simply: Graphic Recording lets you see the big picture. 
I have been working as a graphic recorder since 2012, and I have provided graphic recording services  for more than 100 companies in many different industries. This depth and breadth of experience enables me to offer my clients graphic recording at an extremely high level of quality.
Whether you want to document a workshop, communicate your goals or develop a new product, graphic recording offers the tools to do so. Based on your requirements, I devise customized solutions for you.
Through storytelling, we experience empathy for others, discover creative solutions and remember what we have learned. Visual thinking makes abstract ideas tangible, and charges them with emotional meaning. Through visual storytelling, theoretical concepts become an experience.
What is
Graphic Recording?
Graphic recording is the art of listening and translating words into images – in real time.
Graphic recording is used at conferences, workshops and meetings to visualize lectures and discussions, and to present the results of group work. This can be done digitally on a tablet or with pen and paper.
Graphic recording goes by many names, such as live illustration, graphic facilitation, visual harvesting and scribing – but what all these names have in common is the conceptn of  structuring and documenting events by using visual methods.
Graphic Recording and Visual Facilitation create added value for you and your company
Since 2012, I have been supporting a wide variety of processes with graphic recording. As a result, various areas of application have emerged in which graphic recording plays a key role. I specialise in making complex challenges manageable using visual tools. I would be happy to advise you on which solution is right for you, your team or your company.
"Julian hat uns in mehreren Projekten mit zahlreichen Workshops mit einem begleitenden Graphic Recording unterstützt und damit riesigen Mehrwert sowohl für uns als auch für die Teilnehmenden geschaffen. Er war ein sehr guter Sparring-Partner bei der Konzeption der Workshops, um beispielsweise zu schauen, an welcher Stelle und in welcher Form seine Visualisierungen eingesetzt werden können und auch bei der Umsetzung und Nachbereitung ein wichtiges Teammitglied. Kommunikation und Zusammenarbeit waren immer einwandfrei und völlig unkompliziert - egal, welcher Kontext - Julian hat immer wunderbar reingefunden und bei Bedarf auch eigene Ideen eingebracht. Wir empfehlen Julian unbedingt weiter und freuen uns auf die nächsten gemeinsamen Projekte."
"Die Zusammenarbeit mit Julian macht nicht nur Spaß, Sie bringt auch inhaltlich einen echten Mehrwert. Julian versteht es, auf einzigartigeweise Zusammenhänge in verständliche und greifbare Bilder zu übersetzen. Gerade bei komplexen Workshops im Bereich Healthcare nicht immer einfach, aber umso wichtiger! Die Teilnehmer sind immer wieder begeistert, wie während der Diskussion eine präzise und dabei auch noch unterhaltsame, kurzweilige Zusammenfassung entsteht. Ich würde Julian jederzeit allen als Graphic Recorder empfehlen! Er ist immer eine Investition wert!"
Mit Julian, einem mega talentierten Graphic Recorder, arbeite ich sehr gern im Rahmen von Workshops zur Entwicklung von Leitbildern und Führungsgrundsätzen zusammen. Seine Arbeiten bereichern jeden meiner Workshops enorm. Zahlreiche Details und Ansichten, die wir im Workshop festhalten wollen schaffen wir mit Hilfe von Julians Arbeit hervorragend. Die Detailtiefe, die er bei Bildern erreicht, kann ich alleine als Moderator allein nicht festhalten. Nach vielen Stunden Arbeit ist das geschätzte Ergebnis für alle Teilnehmer:innen ersichtlich und bleibt noch lange in den Köpfen haften.Julian erlebe ich als dezent im Hintergrund agierenden Teil des Moderatorenteams und bin immer wieder dankbar über seinen Metablick auf den Gesamtworkshop.Herzliches Dankeschön für Deine großartige Arbeit und ich freue mich jetzt schon auf das nächste gemeinsame Projekt. Julian empfehle ich uneingeschränkt weiter.
"Julians handgezeichnete Illustrationen haben unser dokumentarisches Storytelling aufs nächste Level gehoben, da wir durch seine Skills komplexe Zukunftsvisionen unmittelbar erlebbar machen konnten."
Ich habe mit Julian Kücklich in den verschiedensten Zusammenhängen zusammengearbeitet. Sei es zur kreativen Dokumentation komplexer Diskussionsrunden mit hochrangigen Entscheidungsträgern, sei es zur grafischen Begleitung von Keynotes und Symposien oder sei es zur intellektuell-gestalterischen Co-Moderation von wissenschaftliche Vorlesungen: Julian Kücklich überzeugt mit einer unglaublichen Auffassungsgabe unabhängig vom Thema, mit beeindruckenden linguistischen Fähigkeiten und der unvergleichlichen Begabung, die gehörten Zusammenhänge in eine schlüssige und einfache Bildsprache zu bringen. Ich habe ihn in meinem Netzwerk mehrfach empfohlen und zu seiner Arbeit ausschließlich ausgezeichnete Feedbacks erhalten.
Durch unsere Foresight- und Innovationsarbeit befassen wir uns mit verschiedensten Themenfeldern, die alle sehr schnell von Julian erfasst und bildlich dargestellt werden Julians Echtzeit-Zusammenfassungen unserer Workshops und Talks belebt die Diskussion und ermöglichen es, komplexe Themenstellungen strukturiert "auf einen Blick" wieder zu erfassen – auch wenn die Workshops einige Zeit bereits vergangen sind. Die Einbindung in Online-Formate funktioniert einwandfrei, der Service unterstützt massiv ohne sich in den Vordergrund zu drängen. Die Zusammenarbeit mit Julian ist immer eine Bereicherung und ich kann sie jedem nur empfehlen.
Herr Kücklich hat die von uns erzählte Story bzw. Message hervorragend visuell dargestellt. Er versteht es bestens, komplexe Sachverhalte in einem Bild darzustellen bzw. zusammenzufassen. Er hat uns bei der visuellen Ergänzung von Corporate Marketing Materialien und Presseartikeln unterstützt. Die Zusammenarbeit mit ihm verlief höchst professionell, schnell, unkompliziert und sehr effektiv. Wir können Herrn Kücklich uneingeschränkt empfehlen und arbeiten mit ihm immer wieder sehr gerne zusammen. Es ist egal, ob Sie Corporate Events, Kongresse, Vorträge grafisch abbilden möchten – wir haben ihn an dem Kongress DTIM 2018 schätzen und kennengelernt – oder ob Sie einzelne Grafiken benötigen, Herr Kücklich ist ein absolut professioneller und zuverlässiger Gesschäftspartner.
Die Arbeit mit Julian hat riesen Spaß gemacht. Ich war schon vorher überzeugt von Graphic Recording, aber zu sehen dass es eigentlich egal ist welches Thema behandelt wird, der Mehrwert ist am Ende allen klar - die Zusammenhänge werden klar visualisiert und man hat eine super klar Zusammenfassung von Tag. Darüber hinaus bekommt man durch die kreiierten Bilder auch selber noch mal eine andere Sichtweise auf die Dinge und die Inspiration den Inhalt nochmal mit anderen Augen zu diskutieren. Ich würde die Zusammenarbeit jedem weiterempfehlen.
Julian's visual support made a big impact at Personal Management Kongress 2016, and his images continue to support us in our quest for excellence.
Julian's graphic recording really captured our discussions through easily digestible and accurate visuals. They contribute to the ongoing communication of our product vision and team values to the wider audience at Gropyus, as well as serving as a fond reminder of our team building offsite.
"Die Präsentation zur Konzernintegration lief dank der Visualisierung von Julian Kücklich sehr gut. Die Darstellungen sind sehr gut angekommen und es gab viel positives Feedback. Ich freue mich darauf, bald wieder mit Herrn Kücklich zusammenarbeiten zu können. Bis dahin werde ich auf jeden Fall von den positiven Erfahrungen erzählen!"
Requently asked
Questions